Submitted by Dick Fischman on Wed, 01/05/2011 - 6:16pm
We are releasing new financial reports, Invoice and Payment Detail. All reports are in the new Financial Reports menu block, only available to those with Registrar or Financial privileges. It is located just below the Club Admin Menu.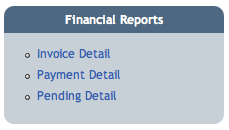 The reports list every invoice line item or payment between 2 dates. Click the button for the detail downloads.
Invoice detail lists the contents of every invoice, Player Fee, Late Fee, Discounts, Check Fees, etc.
Payment detail lists each credit card payment, received check or approved fee waiver. It will also include credit card refunds or charge backs (rare).
Pending detail will list every check or fee waiver waiting. Once applied, they move to the Payment detail report.
To run these reports, it is simple- Just fill in the dates. Look at this example:

This is a look at the invoice report output. Click the Download Detail to get a CSV (Excel) download.